About the Designer
Maria's Biography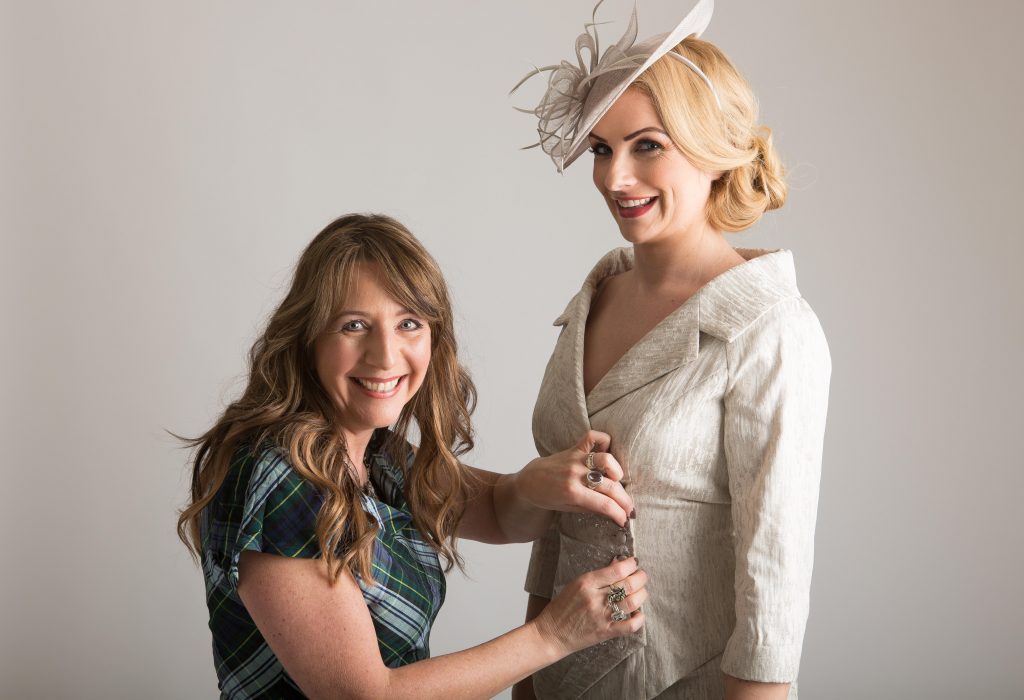 A perfectionist by nature, Maria Morris was an Award winning student. Her skills were immediately in demand by many famous name Designers. Her Biography includes creating designs for Roland Mouret, Oswald Boateng, Maria Chen, Favoubrooks, Claire Mischevani and Florentyna Dawn amongst many others.
Awards
In 2015 in her very first year of trading as an independent Designer Maria Morris won the prestigious 'Best Designer' award for the Northwest Region at the Wedding Industry Awards. She followed this up with another win in 2016 and completed the hat trick with a third win in 2017! 
Technical Skill
Maria's artistic skill is evident in all her beautiful designs, but her incredible technical skill is key in achieving a perfect, flattering and proportionate fit for every Client. Whether your curves are petite or voluptuous you can be assured of the perfection of fit that can only be achieved when a garment is entirely made to measure.
Bridal Designs
Maria's Brides are assured of a perfect and unique design with every detail tailored to their exact preference. She offers a luxurious, once in a life time Couture experience, far removed from the mass market. Many of her Clients are mature Brides, seeking a sophisticated alternative to many of the options currently available.
Mother of the Bride
Maria's designs for Mothers of the Bride and Groom are feminine and luxurious but always with a contemporary edge. Her attention to detail is second to none and designs always feature those eye catching touches which make them unique.
Plus Size Mother of the Bride
Plus size women are often ignored by the Fashion industry but Maria has always been determined that all her designs are completely inclusive and available for all. Before setting up her own Studio she was Head Designer at Florentyna Dawn in Stockport where she developed her skills in producing figure flattering silhouettes for even the most voluptuous of ladies. There are no upper or lower size limits and all Clients are assured of the same perfect fit.
Career History
In addition to working for big name Clients Maria also designed and manufactured a very successful Evening Wear label which sold to prestigious independent fashion retailers throughout the 90's. In more recent years Maria and her team have concentrated on supplying the very finest Bespoke Bridal, Mother of the Bride and Occasionwear designs to some of the most celebrated names in the Trade.
Maria's Own Collection
Now, after over 30 years building her enviable reputation, Maria Morris is at last launching her own Collection. These luxurious exclusive designs are chosen by Brides and Mothers of Brides for their most magical of days, and by discerning Clients for every special occasion from Royal Ascot to the Red Carpet.
Feminine Extravagance
Maria Morris's personal style is very feminine and contemporary and features luxurious fabrics and exquisite laces. Her signature designs often include beautiful hand-made flowers which embellish her classic and flattering lines. She is always aware of the need to design clothes that work for 'real' women and is happy to adapt every single detail until it exactly reflects the unique and personal style of the Client.
Contact Us
Maria's Collection is available to view online here but to really understand the exquisite workmanship and attention to detail you need to see them in person. The whole Team is very proud of the designs we create and we look forward to meeting you. The Studio is open by appointment only – please contact us to book your Consultation with no obligation.