Petite Mother of the Bride
Made to Measure Petite Designs
A letter from Maria about Made to Measure Petite Designs…
Hello
I understand the problems that you face when you're petite – and it's definitely not just that the hem is too long!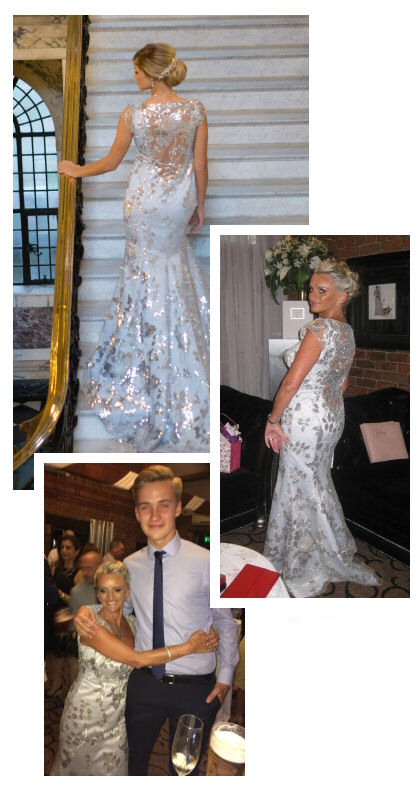 Its all about the proportions
The fit problems start with the you've faced in the past probably include shoulders which are probably too wide, the bust point that is too low and the waist that hits in completely the wrong place. Moving down the distance to the hip is too long and the the skirt shaping wont be flattering. Lastly, yes, the hem will be too long.
When you commision me to create you a design I'll resolve all of those issues to ensure an absolutely perfect fit
Unique Bespoke Pattern
Every Client at Maria Morris Couture is treated as an individual and has a unique bespoke pattern created especially for them.
This process starts with taking measurements to ensure a perfect petite fit. These include measurements such as shoulder to waist, and from the waist to the point of your hip which are crucial to ensuring a flattering finish.
Made to measure Petites
Gorgeous Joanne chose an adaptation of our Tiffany dress for a special party. You can see the dress here (top) on our model, Zoe, who is a willowy 5ft 10ins tall. If you look at the middle picture of Joanne in her version you'll see that it fits her stunning curves beautifully – but it's only when you look at the bottom picture that you can see how petite she really is!
Good things in small packages!
Whether you are a petite Bride, a petite Mother of the Bride (or Groom) or just in need of someone to really understand and celebrate the fact that good things come in small packages then I can help!
Love Maria xx
If you'd like to book in for a Consultation to discuss your made to measure petite design – click here.